Klaes 3D
The Software Solution for the Conservatory- and Facade Construction
---
Construct, present, calculate and produce facades and conservatories – without comprehensive 3D and CAD knowledge! Like a Swiss clockwork, Klaes 3D calculates precisely all production data such as glass- and profile lists as well as all required cutting data. Cross sections are automatically created with dimensioning and your project will be calculated in detail. And if something has to be changed in the short term? No problem! Just change and experience how Klaes 3D calculates and displays all changes automatically per mouse click.
Dimensions, angles, area divisions as well as cross sections can be adapted to the individual customer requirements up to the last minute. Thanks to the flexible data system, you can integrate profiles of almost any kind of material into your system. Whether wood, wood-alu, alu or steel – Klaes 3D is always the right solution. And through the ideal interaction with Klaes, your wood CNC-machine can directly be controlled from the program to produce everything rationally.
All Material Kinds are Freely Combinable
Klaes 3D is based on a highly flexible open data concept, which integrates individual solutions and own construction methods. You can allocate your own profile systems and construction details or access a finished master data package and customize it. Aluminium, wood, wood-aluminium as well as PVC-systems can be mixed individually.
Once you have defined solutions, you can use them in all constructions again and again. They adapt themselves automatically to the respective angle- and dimension conditions. All details can be developed in the master data step by step and the result can be immediately graphically checked.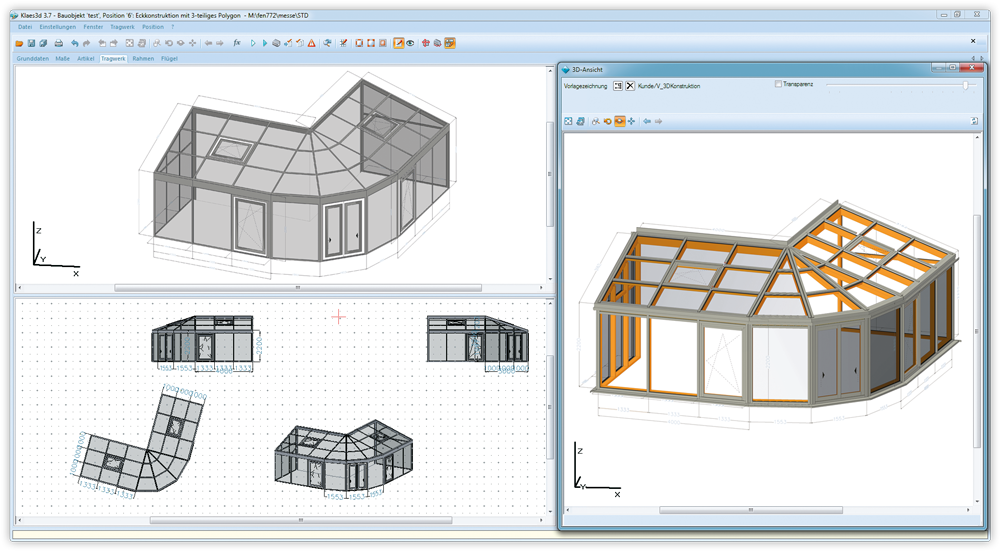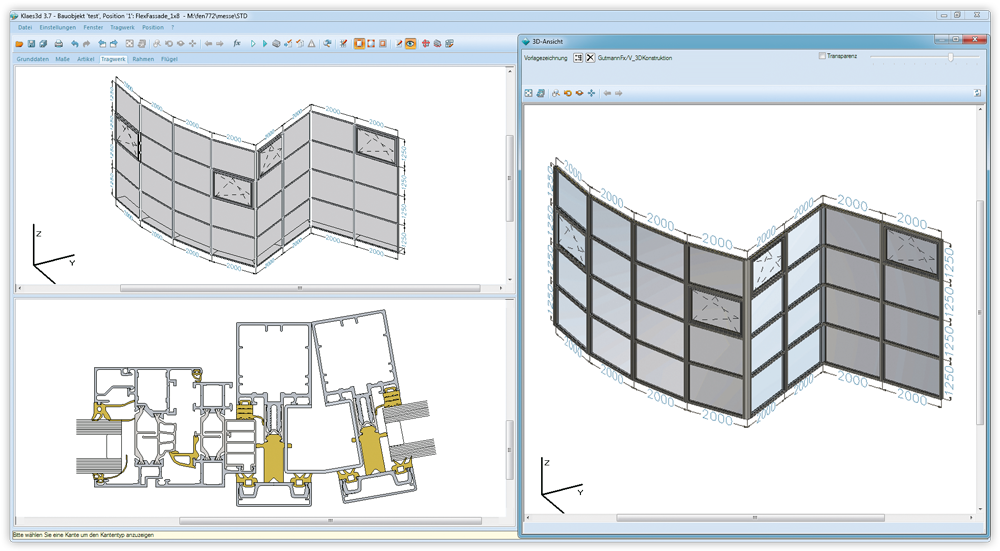 3D X-Ray View
Check Your Cuttings and Processings
With Klaes 3D, you can renounce a time-intensive construction! All processings can immediately be made visible on the screen and be controlled. They construct facades and conservatories which correspond directly to 100 per cent of the object on the screen. Herewith, Klaes 3D follows the philosophy of "parameterizing and visualizing" the data.
Cutting lengths and -angles of all profiles and panels are immediately adapted to the changes in the construction. You can see the results immediately. Explosions of nodes- and edges can be directly controlled in the cross-section drawings and in the 3D view. With these functions, you will get a "Workshop on the screen".
Klaes 3D makes it possible